Instructions For Students
1. Students can download their Admit cards from college website
2. Students can check their date sheet at PU datesheet link.
3. Students are suggested to regularly follow the instructions updated at the Notice Board link provided by Panjab University, Chandigarh, for Examinations to be held from 17th September, 2020
DOWNLOADING THE QUESTION PAPER
1. On the day of their examination, students will open the link https://admissions.mcmdav.com/paper-dwnld and download their respective question papers after filling their college roll number and university roll number.
SENDING THE ANSWER SHEETS
By Email
The students must e-mail the scanned answer sheets (in pdf format) to one of the email Ids given below, according to their respective class. The answer sheets will be accepted within 4 hours from the starting time of the examination (If exam starts at 9:00 am the answer sheet will be accepted by email till 1:00 pm same day)
| | |
| --- | --- |
| Class | Email ID to send Answer sheets |
| BA- III | ba.examinations@mcmdavcwchd.in |
| BCOM-III | bcom.examinations@mcmdavcwchd.in |
| BBA-III | bba.examinations@mcmdavcwchd.in |
| BCA-III | bca.examinations@mcmdavcwchd.in |
| B.Sc. (Medical)-III | bscmed.examinations@mcmdavcwchd.in |
| B.Sc. (Non Medical)-III | bscnmed.examinations@mcmdavcwchd.in |
| B.Sc. (MFT)-III | bscmft.examinations@mcmdavcwchd.in |
| B.Sc. (Computer Applications)-III | bscca.examinations@mcmdavcwchd.in |
| MA English -II | maeng.examinations@mcmdavcwchd.in |
| MA-Sociology -II | masoc.examinations@mcmdavcwchd.in |
| MA Economics-II | maeco.examinations@mcmdavcwchd.in |
| MA Hindi-II | mahindi.examinations@mcmdavcwchd.in |
| MA Psychology-II | mapsy.examinations@mcmdavcwchd.in |
| M.COM-II | mcom.examinations@mcmdavcwchd.in |
| PGDCA | pgdca.examinations@mcmdavcwchd.in |
| PGDMC | pgdmc.examinations@mcmdavcwchd.in |
| M.Sc (Chemistry)-II | mscchem.examinations@mcmdavcwchd.in |
| M.Sc (Maths)-II | mscmath.examinations@mcmdavcwchd.in |
| Add-On Course in Communicative English | comeng.examinations@mcmdavcwchd.in |
| Add-On Course in French | french.examinations@mcmdavcwchd.in |
| Add-On Course in Video Reporting | video.examinations@mcmdavcwchd.in |
| Add-On Course in Interior Designing & Decoration | idd.examinations@mcmdavcwchd.in |
| Add-On Course in Cosmetology & Beauty Care | cosmetology.examinations@mcmdavcwchd.in |
| Add-On Course in Floriculture & Landscaping | flori.examinations@mcmdavcwchd.in |
Chief Coordinator
Mehr Chand Mahajan DAV college for Women,
Sector 36 A
Chandigarh- 160036
PATTERN FOR ATTEMPTING QUESTION PAPER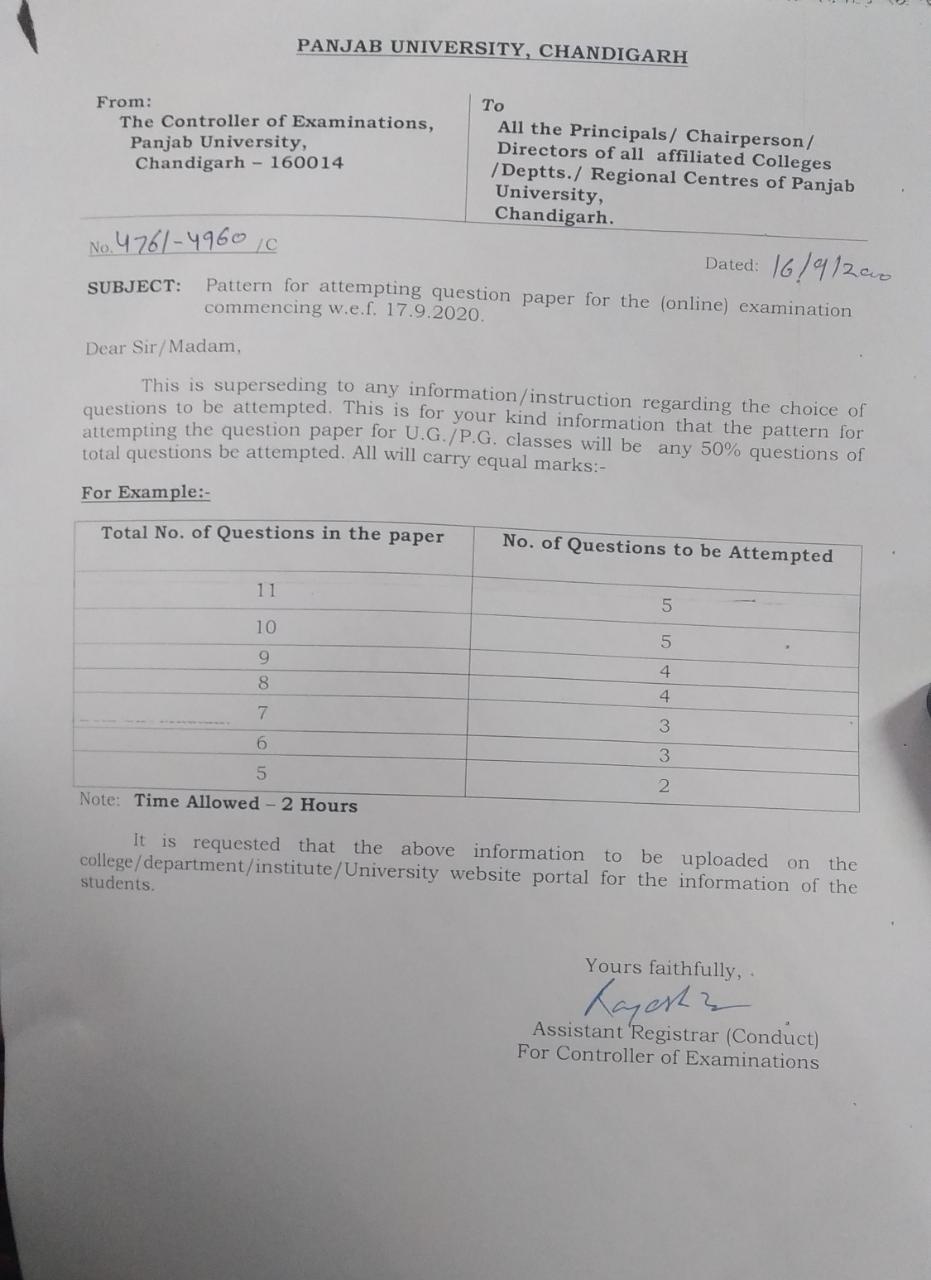 For examination related query, call on the helpline numbers available here