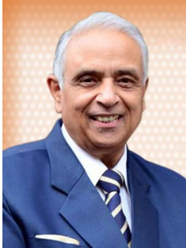 Happy Teachers Day !
I happily join you in celebrating Teachers Day, 2021 in memory of the great philosopher, thinker, and above all a great teacher, Dr Sarvepalli Radha Krishnan, a former President of India. On this day, I honour and express my gratitude to all the teachers and tell them that I am truly blessed because of their presence in my life. I congratulate you all, and thank you for becoming what you are – a Teacher. Today I bow, in reverence, to all the teachers, but to a DAV teacher, I have a special salute.
In the Pandemic, our teachers proved their mettle. Despite the insecurities and uncertainties caused by the dreaded disease, our teachers learnt new systems, experimented with new tools, so that their wards would not miss any part of the syllabus and stay gainfully engaged in their study even while at home. No wonder, DAV has always been a leader in education. We all know that every child or a grown up, has an inherent desire to be good, and the DAV teachers have the capacity to become icons that inspire goodness in others, hence through the judicious mix of Values, technology, and modern systems of education, our students are being trained to be the citizens that my Bharat can be proud of. I am confident that DAV can enhance their personalities to be global leaders in every field.
At DAV, the same synergy flows through all – from the President, all the Office Bearers, Directors, through the Principals, all the Teachers, right down to the gentleman who guards the gates of the School. We all understand that the "ultimate aim of all education is to build Character." A person without character can be literate, but definitely not educated. This is the difference between Vidya and Shiksha. All our institutions are known as Vidyalay and not Shikshalay. Our teachers add that extra Vitamin C (vitamin Character) as they impart wisdom to the student. Hats off to you dear teachers !
In the field of sports, many of our students have made their teachers and the complete DAV faternity proud by participating, excelling and winning gold, silver and bronze medals in the Olympics and Para Olympics at Tokyo. Students have excelled, I congratulate them. But my special thanks and congratulations to their teachers and coaches who, through their persistence, grit and hard work, moulded and chiseled their students into Champions on the Olympic Sports field. Great show, dear teachers, please keep up the momemtum. We have "miles to go before we sleep."
Dear Educators, have a great day, enjoy yourself. God Bless !
Punam Suri
President
DAV College Managing Committee,
and Arya Pradeshik Pratinidhi Sabha